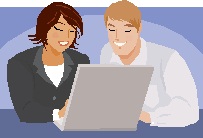 If you are anything like me you may have found yourself thrown into a new technology world that seems to use a totally different language to communicate. When I first became the ED of a small chamber of commerce I found myself having to quickly catch up with all the technology the IT department at my last company managed for me. The website that was in place when I started had been built by a former board member. He was technically savvy but once he left no one else knew how to update or maintain the website. Like many other organizations that find themselves in this situation, we had to spend time searching for a solution that would be easy to maintain and represent us well online.
We chose to go with a WordPress site as it can be updated by people with little to no programming knowledge. Known for having WYSIWYG (what you see is what you get) design, I expected to login and be able to do everything instantly.
I found that while WordPress is easy to use, there are also many features to navigate and having no guidance was frustrating. Just like when you started using Microsoft Word, life got easier once you knew the shortcuts and where to look for each feature.
The good news is there are many great tutorials available and it only takes a little time to learn how to make the most of your WordPress website. Many companies, including MemberFindMe, offer free video tutorials as a part of their service.
The tutorials offered are broken down by subject and are usually only 2-10 minutes long. Keeping the time investment to learn WordPress low means new employees and volunteers can quickly learn how to operate your website and have more time to spend on achieving your goals. Plus, with WordPress being so popular, there is a greater chance that new employees and volunteers will already know how to use it.

I am now a WordPress fan and see it as a great solution for the issues that many small to midsize organizations face. A small investment of time will go a long way in giving your organization a great website that is easy to maintain.