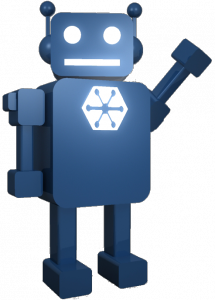 Content Page
This is a example of a general content page. It can be used for an "about us", "mission", "accomplishments" or any other page your website needs. It features a simple design that allows your content to shine. Its easy to update and format your content, and to add pictures (like the one of our SourceBot on the left), videos and other media.
You can further customize a page by disabling any of the top/left/right/bottom sidebars you had setup for site.This page for example has the left and right sidebar disabled, but the top sidebar enabled.
What's in a Name?
The blue.lift theme was designed by Kuah, SourceFound's Co-CEO and Head Geek. Kuah and Karen came up with the idea for the name while hiking around Lake Georgetown in Texas. It's really all about technology that helps you lift your organization or business to the next level.
We know that spending less time in front of the computer and more time with friends and family is only possible when you have the right tools to meet your goals. Using WordPress and MemberFindMe allows for less time on website setup and maintenance to give you more free time. Maybe one day we'll see you at Lake Georgetown.
Image Gallery Example